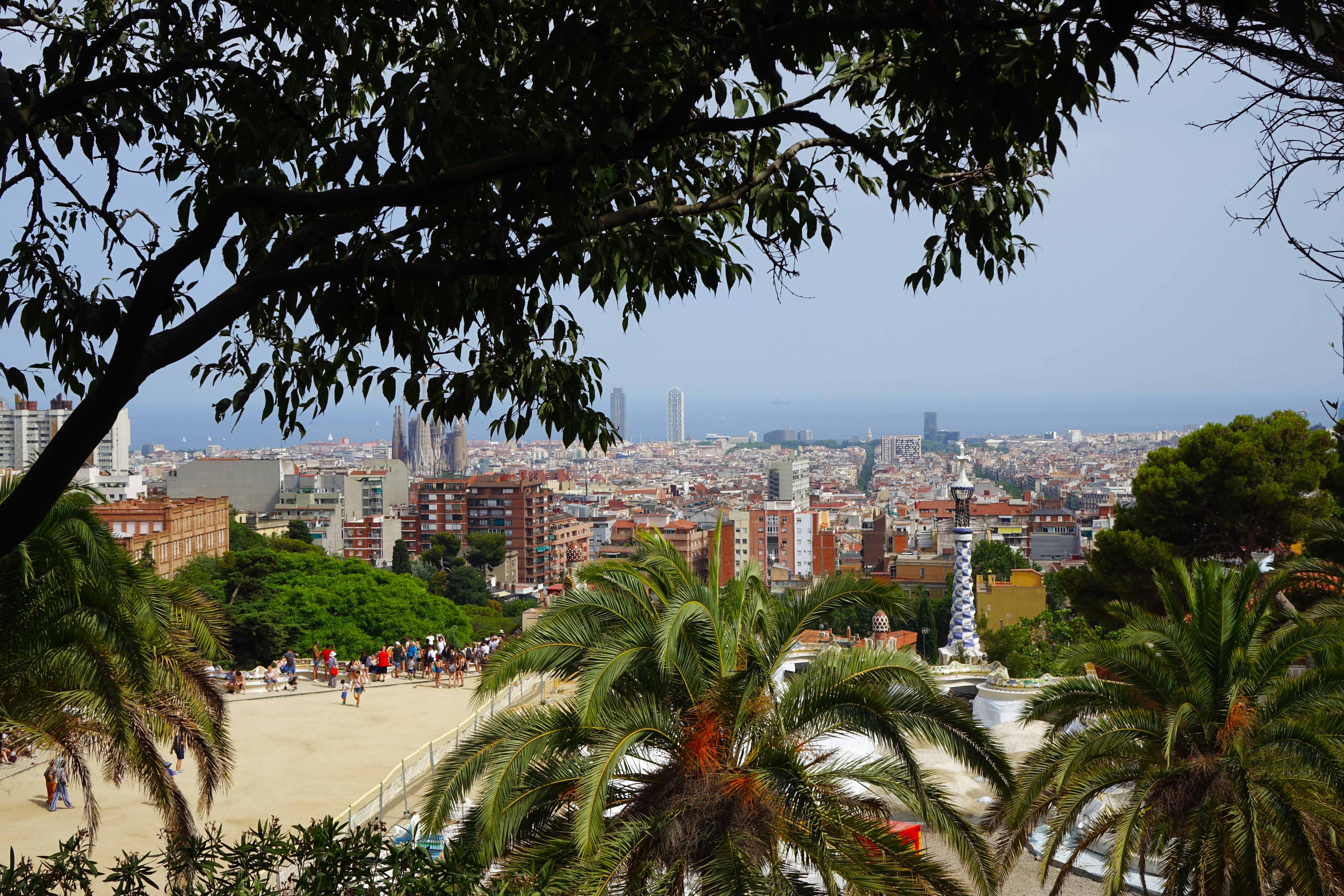 It was almost a month, which I have spent with a language school in Barcelona. I hadn't expected that it will be such an unforgettable time, full of amazing adventures. Going to Spain, was my lifelong ambition, because I'm really excited about the culture, climate and cool people, living there. The atmosphere in that country is very friendly, people are sociable, talkative and more open in comparison with Eastern European countries. Curiously, they have less necessity for personal space. That's why it is very common to hug a friend, to speak with him side to side or to sit very close to another person. They are touchy, expressing feelings directly and freely. They are just being themselves.
Now is my turn to take you for a city tour with our group where were about 50 people from all over the world. Each week some new students were coming to join us and explore Barcelona whereas some of them were going back home. Mostly every day we had 4-6  hours of Spanish. After that, we were sightseeing and getting to know every corner of the city. From my point of view, it is a very effective way of studying a new language, especially when would you like to break your language barrier. So if you want to develop greater competence in this field, I recommend summer schools like Sprachcaffe, which definitely would help you with mastering your language skills.
I was accommodated in a residence located about 1km from our school. In the building, were only single person rooms what eventually turned out to be an advantage, because of high temperatures. Downstairs was a restaurant, where we had some typical Spanish meals served. Alas, some of them were distasteful 🙂
The other thing, I would like to mention about Spanish food, is that I really liked churros with chocolate, paella, all kinds of fish and the fruits, which are definitely better than here in Poland. Having spent much time in the city centre, I explored lots of amazing places. So if you like pasta or even when you don't (you will change your mind!) I really recommend Pasta Market Restaurant on La Rambla Street. What I found interesting, is that each dish you can create by yourself by choosing ingredients from the list you are given. Then you can see how your pasta is having been made and of course enjoy eating!
La Rambla is a famous, tree-lined pedestrian street with a bustling atmosphere, located in Barri Gotic and leads to La Placa de Catalunya. Its distinguishing features are a vivid nightlife, tens of thousands of shops, cafes and restaurants. Apart from that, there is a huge market La Boqueria, where you can find delicious products, especially refreshing fruit cocktails, which are literally perfect! The market is really famous, full of people taking pictures there.
There are also two, ice cream cafes, which I found really unique! The first one is also located on La Rambla Street and it is called Amarino. They offer flower-shaped ice creams, which can be optionally served with macaroons at the top.
The second ice cream spot VIOKO is on the way to Barceloneta beach. It was a formidable challenge for me, not to enter the cafe every time when going nearby 😉 They have a couple of the standouts include raspberry with a rose which is a marvellous combination. The gelati is really smooth and refreshing.
Let's leave the food topic, and move on to… Barceloneta! It is a place, where we were playing volleyball, sunbathing and talking for hours. Few times, we also hired bicycles and had a coastwise trip. The bike path next to the beach is very long, wide and comfortable to ride.
Apart from that, there was a Cinema Lliure in the open air on the playa de Sant Sebastià, where we watched a movie entitled: "Patti Cake$". I would definitely give you some more pieces of information about it if I remembered more. The movies are played during holidays starting from 9 pm.
When you get bored with the Barceloneta beach and want to explore more, there is a great beach in Sitges, a small town in Spain, only about an hour from rowdy Barcelona. Mass tourism does not exist there. People rather come in small numbers to get away from it all and have a quiet time. There are a lot of small and mysterious streets amid the old buildings and monuments. You can find there a lot of cafes made in a vintage style. Vintage clothes shop, vintage cafes, vintage restaurants are all you can find there.
The beach is very close to the city centre which is its main advantage. Additionally, there is Sant Bartomeu and Santa Tecla church which is the most iconic venue in the Sitges. It is situated on the hill just next to the Mediterranean Sea. The church was built in the 17th century whereas some altarpieces and the bell towers were built later. What's interesting, that there were two churches located in the same place hundreds of years ago.
Of course, we haven't been only swimming in the sea. It was in Illa Fantasia aquapark, where we had a lot of fun. Only when we entered the pool the adrenaline kicked in. There are more than 22 slides and a lot of huge pools. However, you need to be prepared for the queues and waiting everywhere for quite a long time.
As we were in Barcelona, we obviously must have seen some masterpieces of the art nouveau buildings of Antonio Gaudi. One such building is Sagrada Familia known as a church being built from 1882. Unfortunately, soon afterwards, the architect died and the projects were damaged during the Spanish Civil War. In spite of that fact, the church is still being built and the end of that process is planned for 2026 when will have been a centennial of the Gaudi's death. Because of a great number of unbelievable details, the temple makes a great impression.

Here I look like a typical tourist;)


Having an eye for details
On the way to Park Guell, we visited two other tenement houses Casa Batllo and Casa Mila. Personally, I definitely prefer the first one, which is more colourful and interesting. What makes them distinguish themselves as well as other buildings of Gaudi, is that there are no straight lines. Every element is outstandingly created with the addition of pieces of pottery and tiles. Apparently, it looks like a dragon because of its roof cover in the shape of a fish scale.

Casa Mila is located very close to the one mentioned above. It looks more like a quarry, because if its texture.
It is a Park Guell, which is the last point of Gaudi's works we saw, full of stunning views. In the city, some areas of natural beauty have been destroyed by urban sprawl. However, the Park Guell, which is situated in the mountains, makes a city more unique and guarantees a breathtaking and picturesque landscape. In spite of the fact that there is no much more to do that just strolling around or buying souvenirs, I think that it's not enough to spend there less than 2 hours.
Every Thursday we used to go to see the Fuente Magica, which is a wonderful place to spend a nice evening with friends. When it gets darker, they play loud music and colourful fountain. During the performance, the water coming out of the fountain's jets create various forms. The fountain was built in 1929 for the World's fair EXPO, which is a large international exhibition designed to showcase the achievements of culture. Soon, in 2024 there is going to be an EXPO in Łódź, Poland. during that show, there are going to focus on nature. During the Horticultural EXPO 2024, the aim of the project will be to encourage people to lead an ecological lifestyle, green areas and recycling.
In Barcelona it is very common to meet singers or dance performers in the metro stations. One such person, who caught our attention was Cesc. I remember the moment when in spite of being in the rush, we were standing there and listening to his covers. So, I really encourage you to go and check his Instagram and see if you gonna like it. I hope you all gonna be on the same page with me!
To sum up, I really suggest you visiting all those places when being in Barcelona. But through all that confusion do not forget to take a sun cream;)
Miss you all guys from Barcelona!